The Fishermen's Chapel Gospel Choir lead our Gospel Service on the second Sunday of every month. Next ones: 12 November, 10 December
Read more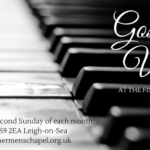 The Fishermen's Chapel Gospel Choir lead our Gospel Service on the second Sunday of every month. Next ones: 12 November, 10 December
Read more
Our Chapel was open all day on Thursday 2 November to celebrate the lives of loved ones who have passed away, followed by a short service
Why not join our new Fishermen's Chapel Gospel Choir, singing traditional gospel music at the Chapel?
We've got a Gospel Choir, We've got Coffee and Cakes, we've got photography, concerts, yarnbombing, yoga, art… and more!
The Chapel hosted two stages for the Leigh Folk Festival on Sunday 25 June
The Fishermen's Chapel opened for the week of this year's Leigh Art Trail, 10-17 June
Subscribe to the Fishermen's Chapel Newsletter
The best way to keep up to date with upcoming events at the Chapel.