The church has a comfortable Community Room at street level which can be hired for groups, classes, courses, children's parties, retreats, and more.  There is a well-equipped kitchen and disabled access toilets.
The church boasts a beautiful chapel area built into the cliff, which is accessed via the gently sloped stairs to the side of the building, or via the internal stairs. Please note that the main chapel is, unfortunately, not easy to reach in a wheelchair.
There is a car park conveniently situated across the road from the church building which is free after 6pm every evening.
The Chapel is equipped with a Pavey sound system which includes a 100watt 8 channel mixer/amp + speakers and stands – more than sufficient for either the lower room or the main chapel. Hirers will need to provide a sound source (e.g. a laptop + CDs or tape deck, etc) for playing music, or instruments and mics for making music. This equipment takes the strain out of kids disco parties, music group/band rehersals and concerts and the like. Contact us for more details and to discuss your requirements.
Please note that the Fishermen's Chapel is, along with all Methodist churches, an alcohol-free building.
Photos of both of the spaces can be found below. Please contact us if you are interested in using either space.
There is also from time to time a desk available in a shared studio upstairs. Once again, please contact us for further details.
The chapel
Above: The Chapel stage. Please note the pulpit has now been removed providing a lot more space – new photo below!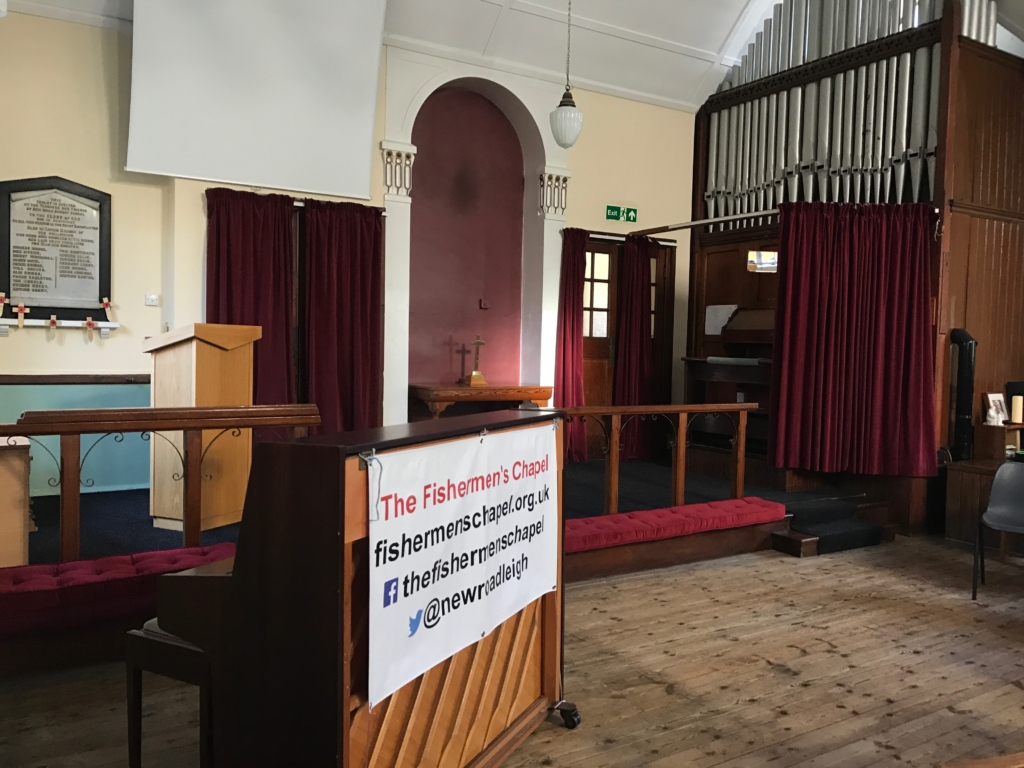 Above: The new stage area.
Above: The Chapel, with chairs in place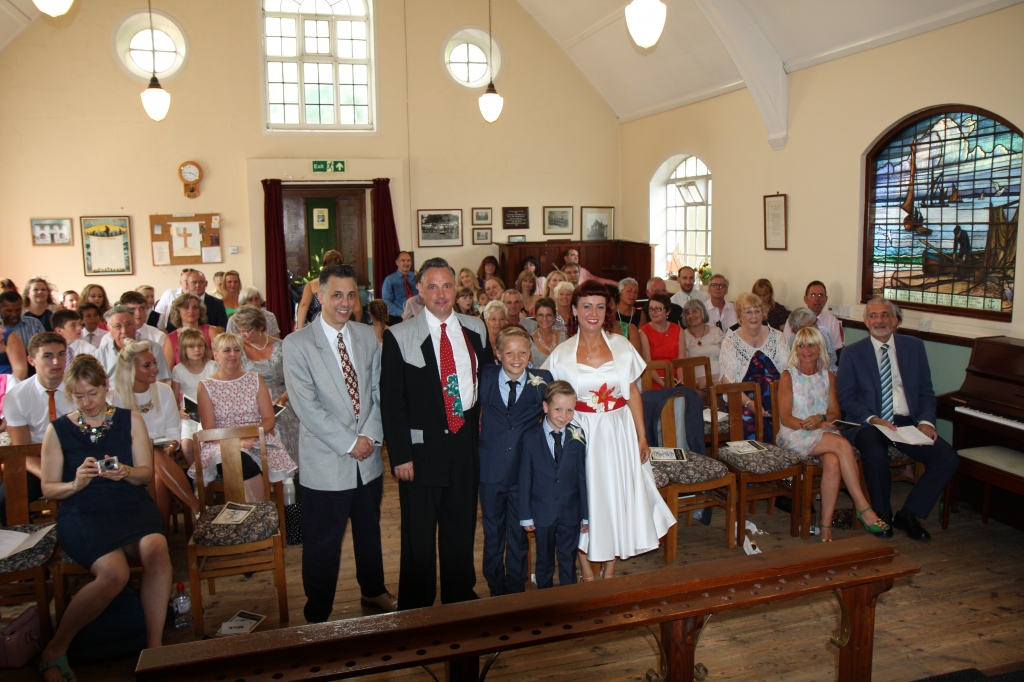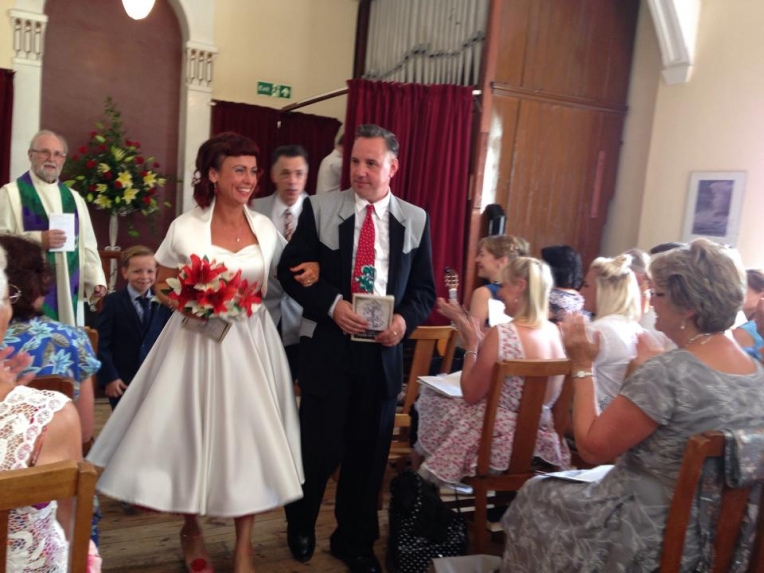 Above: The Chapel, at the wedding of Andrea Cunningham and Brian Denny, married at the Fishermen's Chapel in July 2014
Above: The Chapel, with the space cleared
Above: The Chapel, with lights
The Community Room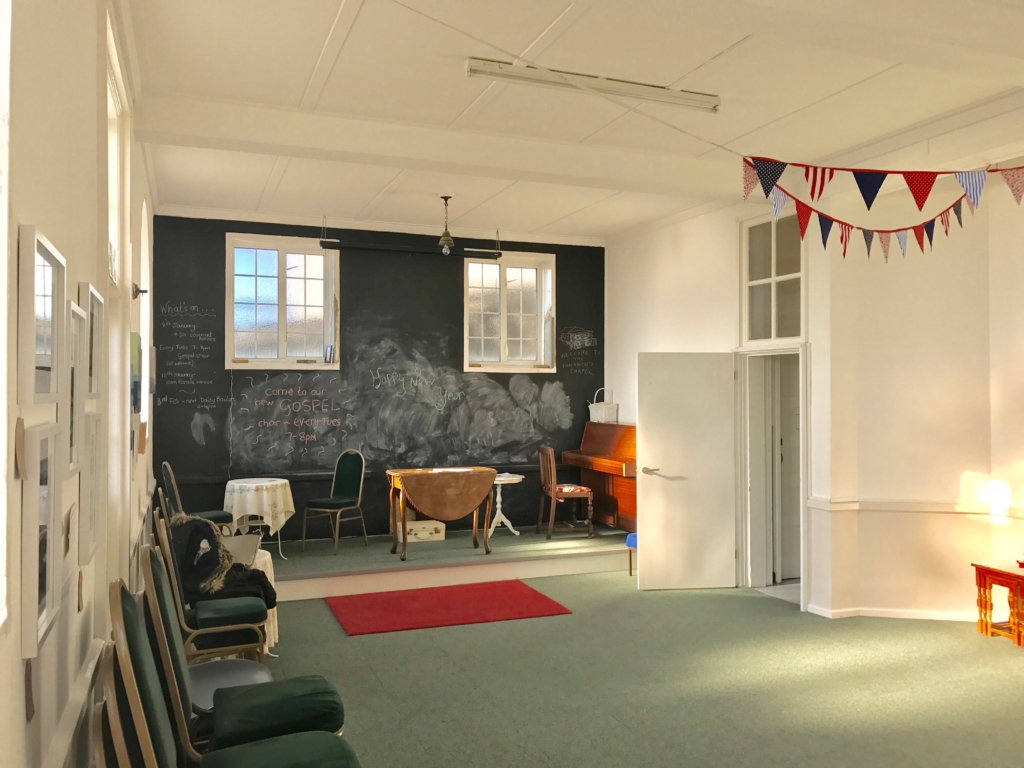 Above: The Community Room. We've newly redecorated this room to be lighter and brighter, with white walls and a blackboard wall. The photos below show the room in its previous guise.
Above: With a band and a full house
Above: The Community Room, set up for a meal