Fishermen's Chapel was one of the venues for the Leigh Art Trail this year.
The artists featured on the Fishermen's Chapel Community Art Wall:
Trevor Morgan is an amateur photographer, who has lived in Leigh-on-Sea, Essex for over 50 years, and has always had an interest in photography dating back to the Box Brownie and the Kodak Instamatic.
Inspiration for his pictures comes from many sources, but primarily nature. Trevor also takes inspiration from the texture and form within landscapes and seascapes.
He uses a Canon E0S 600D DSLR with 18-135mm, 50-250mm and 100mm macro lenses. View more at morganpics.blogspot.com
James Jaggard is a painter who was born in Colchester and grew up in Leigh-on-Sea. He takes inspiration from landscapes and latterly cityscapes, adding texture to his oil paintings using found objects; flotsam and jetsam. View all his paintings at jagpaints.blogspot.com or follow him on Twitter @jagpaints
Simon Brandon lives in Leigh and takes photos for a living. Sometimes he finds time to take photos for other reasons, too. See his work at www.sibrandon.co.uk
Niamh Smith – A new young artist, just 17 years old, specialising in free hand mandala art on print based materials and found objects, particularly driftwood from our local Estuary beaches. Niamh's artwork provides her with a sense of peace and calm that she hopes through sharing her art, will allow her to spread that peace and calm to others. www.mandalarama.com @niamh.smith8
Sally-Anne Ashley's work is an intuitive response to her inner landscape; including personal thoughts and feelings in relationships through to her love of nature, figures, symbols and often made-up creatures feature. These ideas are explored in a variety of mediums, mostly paints and textiles. Layer upon layer of paint is applied to suggest transient moments and emphasise the impermanence of everything we know. Everything changes from one moment to the next – parts are covered and overlayed but not forgotten – it's from these layers that stories are made. Instagram: @sallyanneashley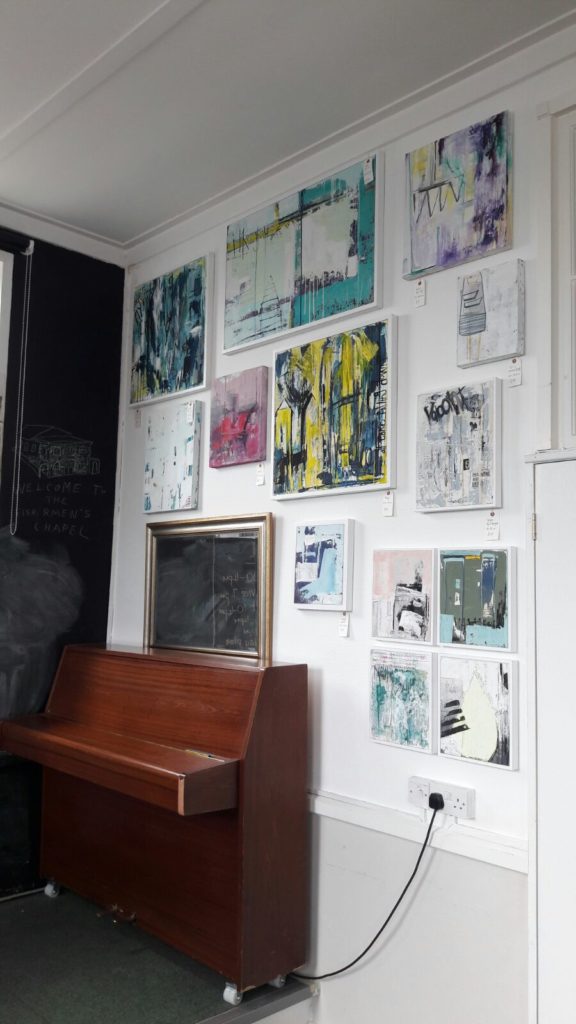 Sally Anne-Ashley wall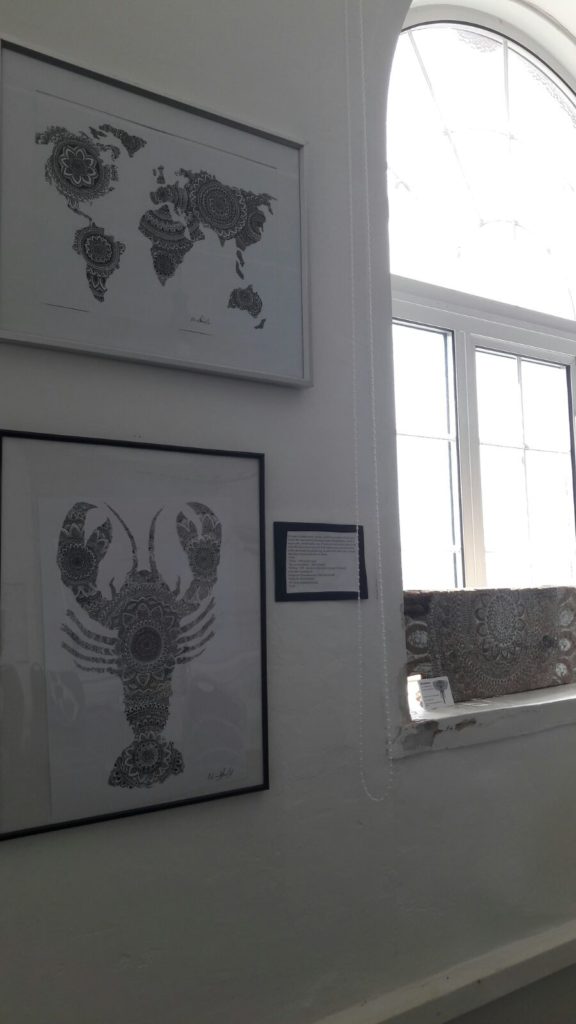 Manadala prints by Manadalarama / Niamh Smith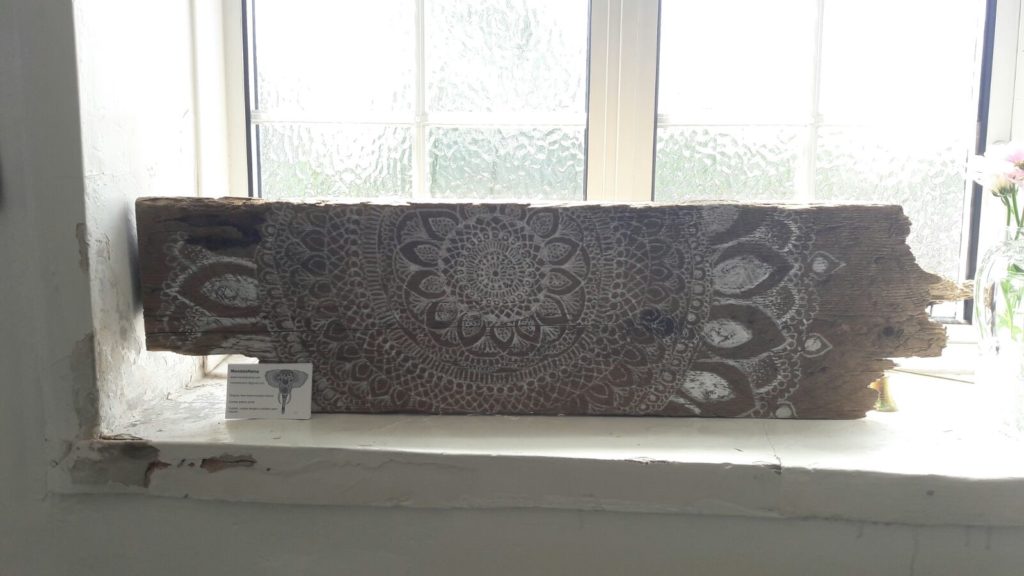 'Drifting' – beach driftwood mandala art by Mandalarama / Niamh Smith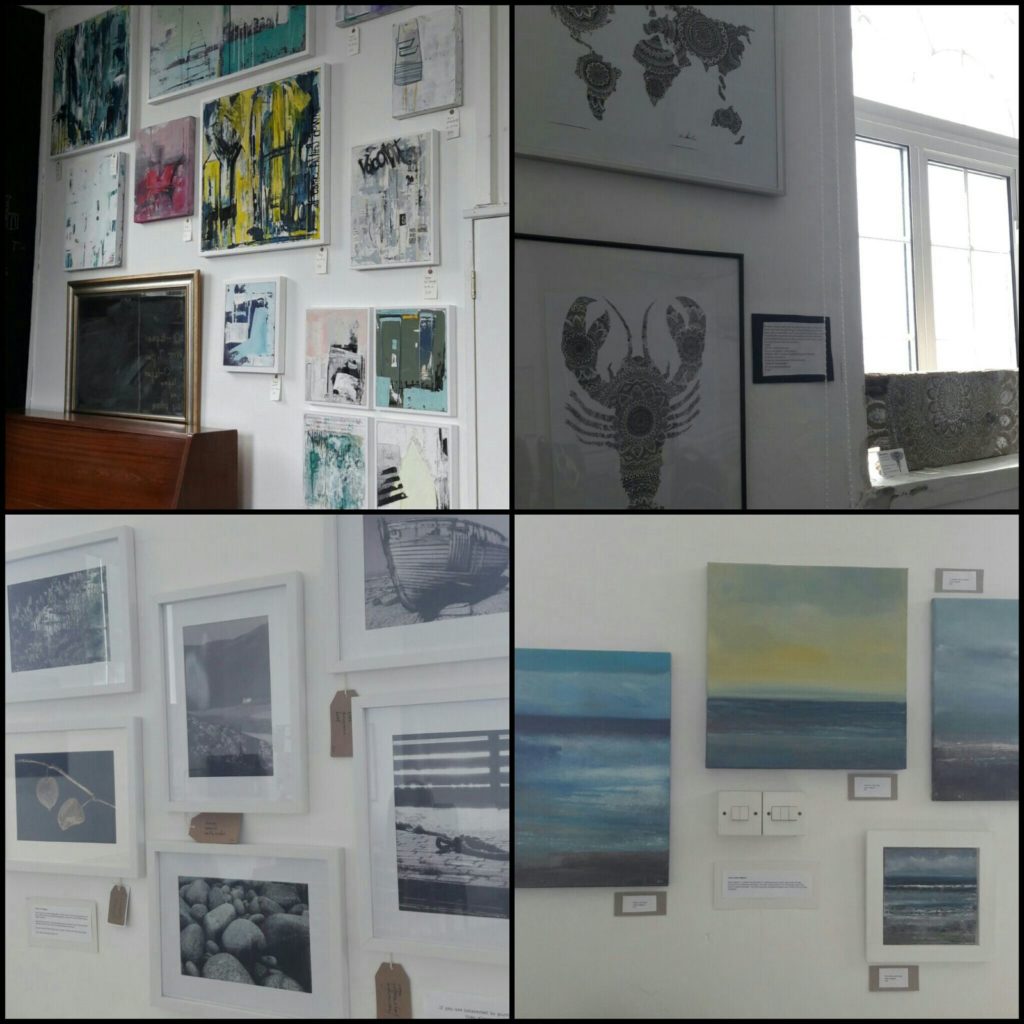 A picture of just some of the artists on the Community Art Wall for Leigh Art Trail
—
Event info:
We'll be open from 10 until 4pm from 10-17 June, providing refreshments every day, (except Sunday, 11 June, when another event takes place in our Community Room). We have art on display in our downstairs Community Room, why not come in and relax as you make your way around the Art Trail?
The full programme for the Art Trail is here, but please note that the Chapel events are as listed below, not as per the programme!
Special events:
Saturday 10 June: There will be an open day to kick off the art trail on Sat, 10th June – a chance to come and view our new Community Art Wall, and also to talk to some of the people who currently use the Chapel space. There will also be poetry from Billericay comic poet Simon Blackman who has just written his debut collection of 'greatest hits', available to purchase and get signed on the day. Artist Sally-Anne Ashley will also be on hand in the morning to talk about her art and the journey it took her on.
Sunday 11 June, 7.30pm: Service with our Gospel Choir. Doors open from 7.
Tuesday 13 June, 6-8.30pm There will be a late night viewing, with refreshments from pop up cafe Beep Beep Pop.
7-9pm. Gospel Choir rehearsing at the Chapel, along with Cockleshell Chorus. Come and join our rehearsal!
Wednesday 14 June: From 10am 'til 12pm, there will be a special family coffee morning with an Under 5's messy play. All materials provided, just bring painting clothes! The space will then continue to be open for viewings that day as usual but from 12-4pm, following the messy play.